May 29th, 2013 - 1:01 pm KY Time
Howllo Fellow Basset Hound and Proper Prior Planning Lovers…
OK, here is the plan for the residents of bassethoundtown.  The time will be here before you know it to submit a senior basset to Senior Hounds Abound Calendar Contest.  I have made an executive decision (along with the baby Mayor) and picked Colby Chaps (the late Mayor Chaps son) as our Senior 2014 submission.  This submission will not be sent in until sometime early September but I want to get some feed back.  What picture shall we submit?
This one?
(picture number 1)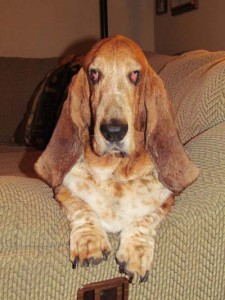 This one?
(Picture number 2)
Or this one?
(Picture number 3?)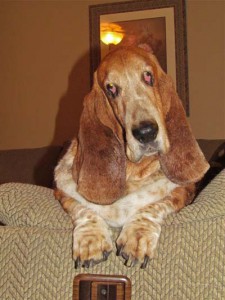 Colby Chaps Mead will be 11 years old on September the 9th, 2013.
So pick your favorite and let me know in the comment section.  I have mine but I am not saying yet.  I don't want to influence anyone because I am the grandmother and paying his entry fee….hehehe
More voting now and later…Cat, Daisy Lynn (Chaps and Emma ATB each proud to win a month while of this earth….

Comments(29)