December 31st, 2012 - 2:02 pm KY Time
Howllo Fellow Basset Hound and New Year Lovers.  I for one am looking forward to the new year with much hope.  I will be glad to see 2012 in the past.  I have many plans for the future and I look forward to sharing them with the residents.
For now…
The Mayor's son, Colby Chaps wants to wish you a very safe New Year's Eve and a bright and beautiful 2013.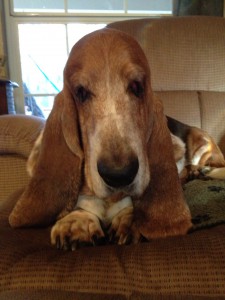 Colby Chaps looks like howl I feel.  I don't think I will be ringing in the new year but ya never know.
What will you be doing?
More wanting all of you to be safe and sound later….Cat, Chaps and Emma ATB wearing their collar bells so Mommy can hear them at midnight.

Comments(9)