April 30th, 2011 - 7:07 pm KY Time
Howllo Fellow Basset Hound and loving to rescue basset lovers! I love stories like this. Thursday I got an e-mail from one of our residents, Cindy, of Jethro, Rugs, Ozzie and Harriet! She said…..
"The local shelter called me about a pretty girl they had. Big girl. So I called Basset Buddies Rescue of TX and they had room for her in a kennel. We're trying to get her a foster home though. I am picking her up Friday and taking her to Houston for vetting. From there a volunteer will transport her to her temporary destination while she looks for a home."
FRIDAY WAS HOLLY'S BIG DAY!
Cindy checks in to bassethoundtown with updates!

"1:54 – We just got loaded up and drank some fresh water. Now she's laying in the back on comfy blankets eating a treat.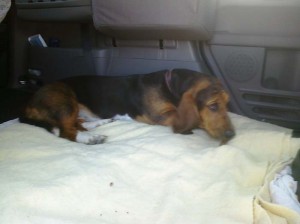 1:55 – Holly didn't stay in the back very long. She quickly took the front passenger seat and asked me where were we going. I explained that we were going to search for a furever home and told her she would be fine.
1:56 – We dropped by Jack in the Box and shared a breakfast sandwich and some hash browns. Holly enjoyed it as she patiently waited for her bite. It was lip smacking good!
1:57 & 1:59 – Laying down to take a nap.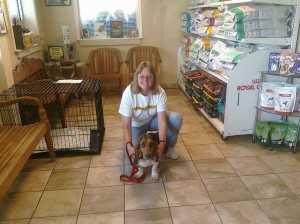 1:60 – Holly and me at West Alabama Animal Clinic.
She is a very sweet dog and doesn't have an aggressive bone in her body. She seems to be good with all dogs and even cats. I think she would be fine for children.
So, we wish our Holly Dolly good luck! We have all paws crossed that she'll find a GREAT furever home.
Cindy."
Good job Cindy! Thank Dog you were Holly's angel! Keep us posted when you have a link to her page on Basset Buddies Rescue of TX!
More loving Holly and Cindy later…..Cat, Chaps and Emma

Comments(11)