This is the homeless basset hound fund page where I will keep a tally of the money the residents have raised to help the less fortunate.
I want to show what we have in our neighborhood basset hound town bank account. Every donation will be recorded on this page and howl to donate. Since I am not a 501(c)3 I cannot start a FirstGiving Page but I do have a paypal account. The e-mail that is attached to my paypal account is bassethoundtown@fuse.net
To donate via check please make out to:
BASSET HOUND TOWN ENTERPRISES
P.O. BOX 347
FT. THOMAS, KY 41075
100% of your donation will go to the homeless. I will cover all gas and the time it takes to get the less fortunate into a rescue or forever home. Our goal in Basset Hound Town is to make the homeless hound couch ready! hehehe
9-21-10
-43.00
30.00
=-13.00
9-21-10 –
Cindy and the Doyle Hounds………………………………………………………………………..20.00
Lois and the Lema Hounds…………………………………………………………………………..10.00
9-9-10 – ACCOUNTING AFTER VOODOO………………………………………………….-43.00
70.00
113.04
-43.00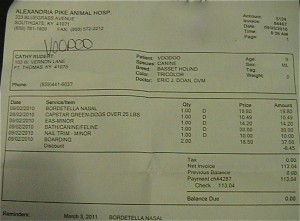 I am a bit upset that I got charged for 2 days of boarding. VooDoo only spent the night one night but the vet charges for the next day if the hound is fed and walked. I am going to try and get that back, but live and learn. I just think it is kind of odd.
8-31-10 – TOTAL IN BASSET HOUND TOWN RESCUE FUND…………..70.00!

AS OF 8-31-10 WE HAVE THE BLUE EYED BOYS 150.00 TAB PAID IN FULL! WE ALSO HAVE A BALANCE OF 70.00 TOWARDS THE NEXT HOMELESS BASSET HOUND TOWN RESIDENT.
TOTALLY PAWSOME!
8-31-10
Bailey, Clancy, Richard, Colby Chaps, & Abby………………….50.00 – In honor of Stewie and Mikey!
Maureen and Slinky………………………………………………………15.00 – Basset Hound Town Rescue Fund!
Debbie and the Masterpiece Bassets………………………………..20.00 – Basset Hound Town Rescue Fund!

8-24-10
BJ, Gary, Charlie, Otis, Zoey and Phelps………………………….50.00 – In honor of Stewie and Mikey!

8-21-10

Candy and Bailey…………………………………………………………..20.00 – In honor of Stewie and Mikey
8-8-10
Phelps, Zoey, BJ and Gary………………………………………………25.00 – In honor of Phelps and Zoey's 2nd birthday!
7-23-10
Cindy, Jethro, Rugs, Ozzie and Harriet…………………………….20.00
7-15-10
Candy and Bailey donation to the Emergency Fund…………..20.00
7-14-10
As of today we have a balance of 0. Howl ever, TJ has all of his bills paid. As you may recall, we had 110.00 in our account. We received 78.00 dollars from Mary Tipping that brought our amount up to 188.00. Grandma and I donated 10.00 so, TJ's bill is paid in full. Here is the blog posting to show all of the details.
BLOG POSTING ABOUT TJ'S ACCOUNTING
7-4-10
BJ Porter 30.00
Donation overage from Frankie 20.00
10% discount off of Frankie's bill from vet 35.00
Debra Holdcraft-Bach 20.00
Wanda Richlen 5.00 (20.00 of the 25.00 she sent went to Frankie)
So, there you have it! 110.00! For our next hound! CAN YOU BELIEVE IT????
Bassethoundtown residents are the BEST!