November 29th, 2011 - 8:08 pm KY Time
Howlow Fellow Basset Hound and Holiday Cards for the HoPpers lovers.
First off I would love to thank the HARVILLE HOUNDS for reminding me about the dollar for HoPpers Holiday cards.  Last year I asked all of the residents to send us here at bassethoundtown a holiday card, depending on what holiday you celebrate, with a dollar enclosed.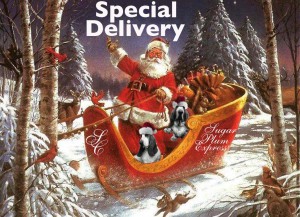 I will collect all of those dollars and send them on to Marilyn at HOUSE OF PUDDLES.
Last year we hauled in 333.00 dollars for the elders!
So, please add us to your holiday card list! (Don't forget the dollar!)
BASSETHOUNDTOWN
P.O. Box 347
Ft. Thomas, KY  41075

Comments(6)