August 27th, 2017 - 8:08 am KY Time
Howllo Fellow Basset Hound and a day at the beach lovers…Grandma, Daisy Lynn and I had such a great day on this day in Lauderdale by the Sea.  We got out early and decided to hit the book stores and boutiques early to get the Lily Book out and about in Fort Lauderdale.  It was so much fun just driving around and getting lost.  Exploring pockets of streets that lead to the beach.  Interestingly, Grandma remembered this street!!!  It was right across from the public been and had all kinds of shops that looked like old head shops from the late 60s early 70s.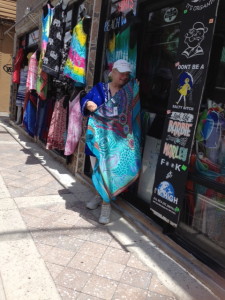 I had to pull over and run in.  Grandma sat in the car with Daisy Lynn.  I saw this shirt/coverup from the car and had to have it.  Love, love, love finding stuff like this off the beaten path…
And this is right across the street…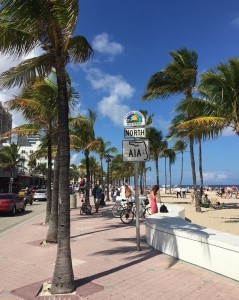 Hello!  Beach cover up plus beach equals all day every day!!!
All of this put us in the mood for our very own beach day on our very own private beach.  It was time to head back Seaward Villa D and give my new cover up a test drive!!!
Here is a reminder of our condo.  I just love the yellow.  We rented the until on the left side, Villa D.  It had a great balcony but it is not in this picture.  The top floor is a one bedroom from what the description says and we needed two.  The bottom floor is the owner's unit and was not for rent.  Just being super picky – I would not want to rent that unit because then everyone else in the building is swimming all day and not what I want to look at.  Plus, we are not big pool people anyway…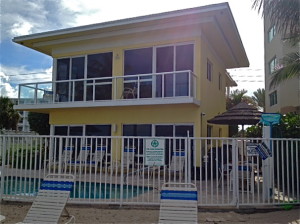 I cannot say enough good about this building's private beach howl ever…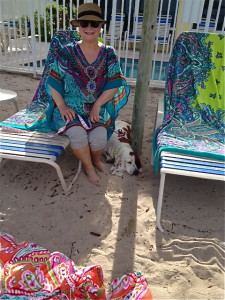 Just a real dream come true…
It took me about 2 years to pick this place over all the other places that were for rent in Lauderdale by the Sea.  It had close to everything we wanted and the main thing was to be on the ocean.  It is harder than you think with a hound in tow…
You can almost smell the salt…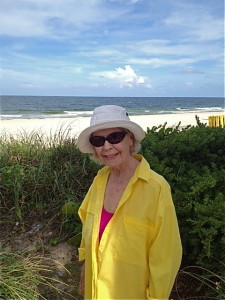 Can't you?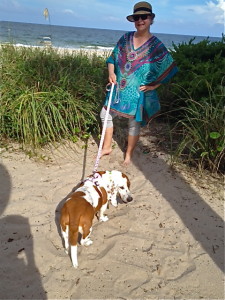 Now this is a selfie for the ages…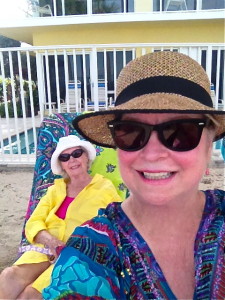 Oh howl I miss you my yellow and mellow Seaward Villa D.  Your private beach and your salty smell…
Did you notice in the first picture I am standing next to a poster that says…"Don't be a salty bitch"?
Well we will wear the mantle with pride – all 3 of us!  hahaha
More loving our life later…Cat, Grandma, Daisy Lynn (Chaps and Emma ATB sprinkling rainbow salt…)
PS – photo shoot continues of the pool area in the next blog…Stay tuned my salty friends…