March 31st, 2009 - 1:01 pm KY Time
Howllo Fellow Basset Hound and packages coming in the mail lovers! OMG! Emma was so excited today when a package that smelled really good came for her today in the mail!
Dear Cindy, Jethro, Rugby, Ozzie and Harriet Doyle we cannot thank you enough and you will soon read why!
Here is Emma reading her card.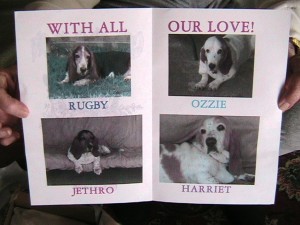 How cute are these hounds? This card was made just for Emma!
Then Emma checked out her package.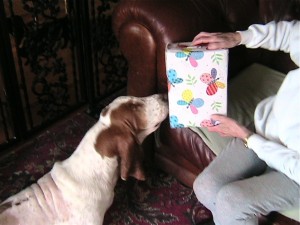 Hurry Grandma, Hurry…….open my gift!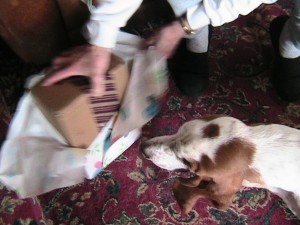 The first thing we saw was this totally terrific toy! As Grandma pulled it out of the box Emma went wild!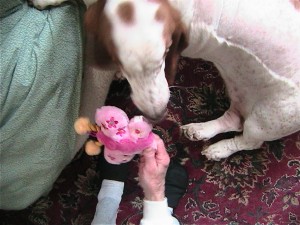 Grandma squeaked the toy for Emma and this is where a gift for Emma turned into the best gift ever for us!
EMMA STOOD UP AND WALKED A FEW STEPS, FOR THE FIRST TIME, TOWARDS THE TOY!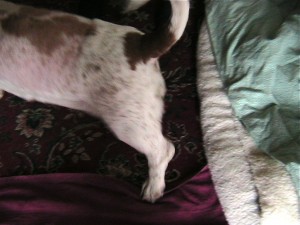 The crowd went wild and tears were flowing as Emma did it again. She walked a few more steps! Grandma was not holding her up!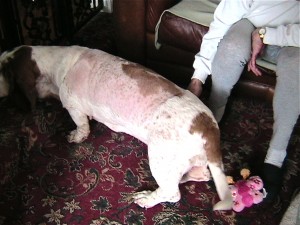 Our girl got turned around but we made sure she got her new toy and the YUMMY TREAT that came along with the miracle toy!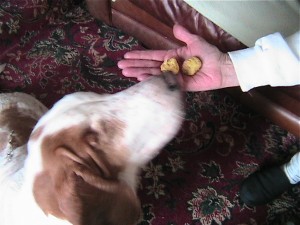 One for Emma and one for Chaps. A girl never was more deserving of a homemade potato and carrot ball from Auntie Cindy and company!
Yes please – I will have another!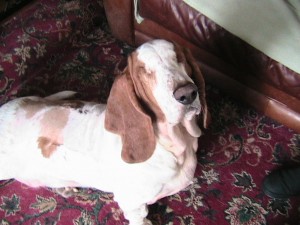 Hey we can't forget the Mayor of potato hound town! LOL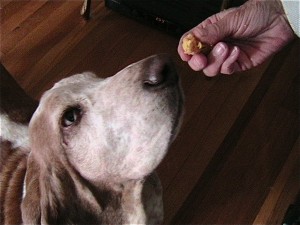 I hear by proclaim 3-31-09, Emma day in basset hound town. Potato balls for all!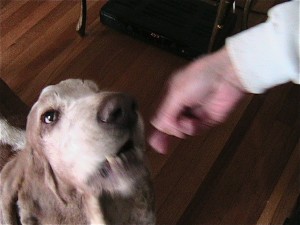 Cindy, can you believe it? We cannot thank you enough. We are jumping for joy and Emma is very proud of herself. We love you guys very much.
Hey are those magic potato balls? LOL
More potato balls later…….Love, Cat, Chaps and Emma

Comments(20)