May 30th, 2012 - 9:09 pm KY Time
Howllo Fellow Basset Hound and review of Dogs in the City Lovers (?)…
Tonight this new TV series premiered on CBS hosted by the self proclaimed "dog guru", Justin Silver.  I am watching this and taking notes at the same time.  Dogs in the City starts off with Beefy, the skate boarding bull dog.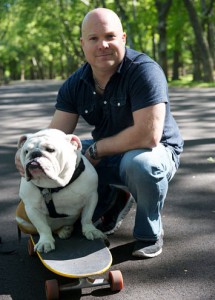 Beefy's Daddy has recently gotten married and the new wife obviously is having problems.  Let's see what happens.
OK, this has just started and now Justin is onto another dog and this segment is getting better.
Justin is darling and I think he truly cares about dogs.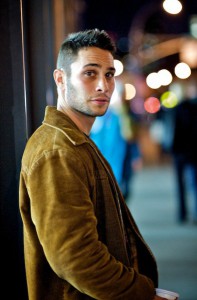 This is an hour long show and it moves very quickly which is good for a show like this.  You get to see a lot of dogs in different situations.
The City is New York and there are massive amounts of dogs to visit. Justin will have a never ending supply if the show lasts.
The third segment has a little girl who will absolute steal your heart.  Her Dad is pretty pawsome as well.  Justin is just winning me over.
Back to Beefy.  Oh, Justin is getting really deep.  Hope this series is ON DEMAND. Beefy is so glorious.  At least the new wife is trying to fit in.  Personally, I think this relationship should have been worked on before the marriage.
The show goes on to tackle people problems which are the biggest reasons dogs struggle and I totally agree with that.  Justin is a dream and looks like a new reality star to me.
My rating is 4 paws up.  Give this series a try.  Very cute and lots of family fun!
More enjoying dogs on TV later…Love, Cat, Chaps and Emma
PS – Looks like the Beefy pack is doing great.  Gotta love Justin!

Comments(11)