December 31st, 2010 - 11:11 pm KY Time
Howllo Fellow Basset Hound and Taio Cruz Lovers! Well, I was just in my living room dancing to Taio Cruz – LIKE IT'S DYNAMITE – via Times Square!
Dancing, dancing and getting our NYE groove on! And then get this….
Some idiot let off what sounded like dynamite! I jumped higher than Chaps.
Poor boy!
Look howl scared!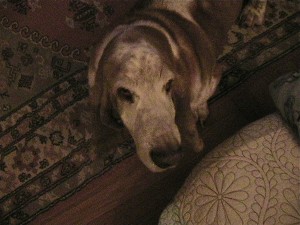 I just kept dancing and he seemed almost like, "did I hear that?"
So all is well in BHT! Mamma is still dancing and the Mayor is hoping that no one else sets off anything that sounds like dynamite!
More getting our groove on later! Gotta love that song!
Cat, Chaps and Emma

Comments(1)