April 30th, 2017 - 11:11 am KY Time
Howllo Fellow Basset Hound and super summer Sunday lovers…Today Mayor Daisy Lynn Rudert and I switched from winter to summer mode at the headquarters location of #bassethoundtown.
Interestingly, we have never used our slip cover for Daisy's couch.
Soooooo pretty!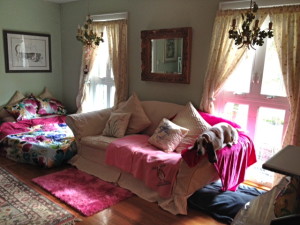 When the sun shines in the windows it throws a pink hue over everything.  Wow!
Pink is her signature color!!! It makes me smile!
More loving smiling later…Cat, Daisy Lynn, (Chaps and Emma ATB laying on pink clouds 🙂