September 28th, 2018 - 7:07 am KY Time
SOLD – SOLD – SOLD!!!
NOW MORE HOUNDS CAN SLEEP ON MORE COUCHES!!!  THANKS SO MUCH TO THE BUYER AND I HOPE YOU ENJOY YOUR FREEBIES THAT WILL COME ALONG WITH THIS PRETTY POUCH…
Howllow fellow basset hound and rescue item lovers…Yours truly with the help of our Mayor upscaled this darling Cynthia Rowley Clutch for a variety of fun.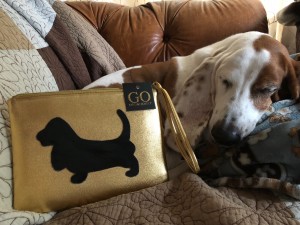 As you can see our Mayor was a big help.  When she wakes up we might upscale another item…or howl at the neighborhood dogs…or both.
Have a great weekend residents!
More loving being the talk of the walk later…Cat, Daisy Lynn, (Chaps and Emma ATGolden bridge with plenty of poop bags…;)