August 31st, 2009 - 10:10 am KY Time
Howllo Fellow Basset Hound and laughing in the morning lovers: This morning I was cleaning up the kitchen and Chaps was in his usual spot, preening and watching me clean. I tell you what, looking at that boy makes cleaning the kitchen much easier. Anyway, I had the kid's little potato container sitting on the counter and the thought crossed my simple mind….."I wonder how many of those tiny red potato bits my boy has eaten in his life?" Now that's some deep thinking to start the day off with!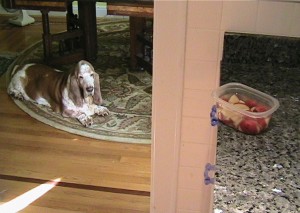 Since Emma is allergic to most everything – included Chaps drool, she can't have many treats. She tolerates potatoes well and they both love them. I just cut them into little bite size pieces and keep them in the fridge.
More deep thoughts later…..Love, Cat, Chaps and Emma

Comments(8)