February 28th, 2014 - 9:09 pm KY Time
Howllo Fellow Basset Hound and finding a lost pup lovers…Today Grandma and I were on our way to celebrate Grandpa's life.  It has been 4 years since we said goodbye for now to Grandpa.  As I was making a right on red I spotted this…can you believe it?
I actually almost had a wreck pulling over to take this picture.  I really did.
Poor Zane.  He is still missing and it is very cold tonight.  I would like to ask the residents to sling some drool and good vibes for this missing lost soul.  His parents are just besides themselves.
I shared this on facebook and within a short period my post had over 100 shares.  There were folks out looking and calling his name to no avail.
Poor Zane.  Himz only 7 months old.  I will keep the resident posted.
I asked Grandpa to protect Zane…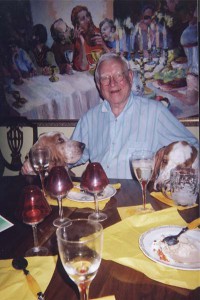 More loving hoping for good news later…Cat, Daisy Lynn (Grandpa, Chaps and Emma ATB working overtime…)

Comments(10)