March 31st, 2020 - 7:07 pm KY Time
Howllo Fellow Basset Hound and taking notes lovers…I started taking notes a few days ago so I could keep a diary.  A blog is kinda like a diary.  Since the days are merging and not in a good way, I want to remember what went on in this epic time, like being scared you are going to die kind of way.  Hey the fear is real and if you think it is not, listen to the experts.  Yesterday Trumps experts (Brix and Fauci) claim death tolls could be in the hundreds of thousands.  These are numbers that are coming from the Trump administration yesterday, Day 14 – Monday March the 30th.  Totally not a beautiful thing and not a drummed up hoax.
Here goes…
Day 11 – Friday March the 27th – Chalk Art for bassethoundtown – definitely the highlight of the week for sure…My most excellent darling neighbors did this for me.  Just look at the DAISIES!!!  Wow – this really warmed my heart to no end.  I love those kids.  It also says, "have a nice day"…THANK YOU SOOOO MUCH!!!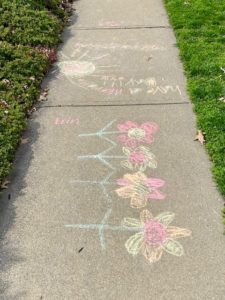 The only thing we do when leaving the house is Click List aka Kroger pick up…wondering if we should sanitize groceries – Only take what you need mentality, the food chain is fine (really)? Still no toilet paper ANYWHERE even with rations being implemented – the word ration becomes real.  Depression era people know what I mean.  I google what is the difference between a recession and a depression… "A recession is widespread economic decline that lasts for at least six months. A depression is a more severe decline that lasts for several years. For example, a recession lasts for 18 months, while the most recent depression lasted for a decade. There have been 33 recessions since 1854." Why did I not know that?  I think a lot of people are going to be depressed.
Was today the day that Trump announced that the churches will be filled by Easter? No it was Wednesday March 25.  The message seems idiotic if you listen to the experts.  Howl many are in denial? I guess quite a few, the KY Gov ordered churches closed weeks ago and some are still hold in services.  Really? People also still think this is a virus that only affects the seniors.
Day 12 – Saturday March the 28th – did some back yard clean up – The sun was shining and it felt so good to be outside.  Planning to have our normal back yard welcome to Spring/Summer party soon which consists of Smash burgers, tater tots (extra for Daisy), whine (extra for me), and something sweet.  The news remains grim and the numbers are climbing.  Still watching our Gov every day at 5.  He is asking KY residents to light their homes green when there is a death from the virus.  I think I have some green lights. I have to look for those soon.  We want to show compassion.  Sure hope I don't have to turn that light on too many time but I fear the worst.
Day 13 – Sunday March the 29th – BFF came over for a socially distant chat, Daisy Lynn was so confused.  I felt so sorry for her.  When BFF comes over we always have pizza!!!  Daisy was so wanting her pizza!!!  I really enjoyed our chat.  After she left and walked back home I heard all the bells ringing.  The KY governor (my rock) has told us all to ring our bells everyday at 10:00 so people who are doing the right thing by staying at home can feel connected.  We are to do this every day, not just Sundays.  I took out umbrellas for our back yard – Gorgeous day a bit chilly but we (Daisy Lynn and I) got some vitamin D. It was a bit too cold for Grandma.  I saw a CDC public service announcement running on a loop that I found oddly offensive and riddled with misleading information.
https://www.youtube.com/watch?v=DW7kn4NsbVM
"Most at risk 65 and older with underlying conditions". ( I can't wait to revisit this pronouncement.) I would say that the most at risk are people who smoke, vape, get drunk and party on Spring Break.  They are most at risk also for stupidity and carelessness.  The gov of FL keeps his cash flowing as it is open season in FL.  Gee thanks for nothing.  With Governors like that who needs ventilators?  Oh, all of us and the govs must compete like they are on a season of The Apprentice!!!
The public service announcement continues…
"Avoid crowds – stay home if you can".  (Notice the words "avoid" and "if you can") Many people will take this as a signal to do whatever they want.  I see it every day.  Lowes is open as an essential business and the garden center is like a spring break party in FL.  Howl is that essential?
Wash your hands.  (Krogers has been out of hand soap refills for over 2 weeks now, but the food chain is fine:()
I think the public service announcement is giving false hope to SOME who read it.  It is all just words, meaningless words with a few signals thrown in to make the people who are going to do what they want to do feel better.  "Avoid" and "if you can" means Parties and who gives a bleep.  Spring break here we come.  FL is so screwed.  Avoid means NO I will not and if you can means DRUNKEN PARTIES.  Then they all come back to their homes because the colleges are closed and spread their stupidity to what the government calls the "most at risk".  Meanwhile the "most at risk" are doing their part to isolate and avoid all the hung over idiots.  Can we see a vicious cycle here?  No one is on the same page.  It's every state for themselves as governors are fighting for expired supplies.  Hey, it's not only FL that is so screwed.
Oh, here is a fun highlight for the day!!!  I have a friend who teaches kindergarten and I contacted her to see if I could give each of her little stinkers a Lily Book!!!  She was thrilled and planned a lesson around the book and basset hounds as she remotely teaches from her home.  OMDOG!!!  I just love this.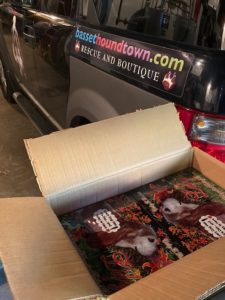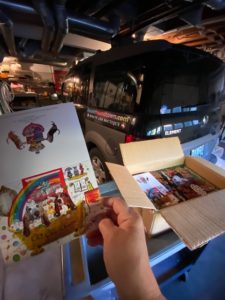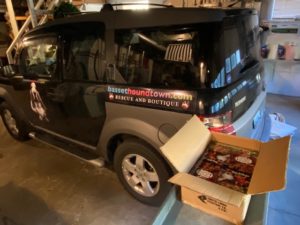 Hopefully, I will do another blog posting about the lesson when I hear all about it!!!  Who would have ever thought Lily would be helping kids in a pandemic.  Wow…
Day 14 – Monday March the 30th – Face masks – not to wear or to wear? We are still pondering that question.  I will get back to ya.  Do not cross state lines issued by KY Governor – worked on my bills and phone calls to see who is offering reprievement due to the pandemic.  Pretty much everyone.  Interestingly, Duke Energy is the worst so far. Spectrum Cable is the best so far.  OH Gov extends school closing until May 1.  Miami University in OH sends out alert that remote learning may continue through the fall opening of school.  Dr. Fauci announces that a second outbreak could come in the fall.
Today seems especially like a turning point of heading into the pits of the pandemic or should I say the apex?  Field Hospitals are popping up like spring flowers and lets just hope they are not perennials.  Trump maybe listening to the experts which he considers himself one, and his proclamation of everyone rising from the shelter in place orders on Easter day and filling the pews was just a cruel folly to his base. He claims he was just being "aspirational".  Meanwhile hundreds of millions will need to be aspirated with no means for that to happen, maybe they should just be aspirational.  The cruelty continues along with the absurdity – according to Trumps experts (Brix and Fauci) new death numbers projected in the hundreds of thousands.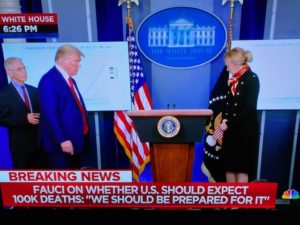 So, so, so, all in all – still doing well in bassethoundtown.  Grandma, Daisy Lynn and I are keeping busy and following the rules.  Being our own best advocates and listening to our level headed Governor.  I know this posting is really long but I fell behind and tried to cram it in.  I have actually fallen behind on many blog postings over the past year and during this time of sheltering in place I hope to catch up completely.  But for now we shelter…and whine…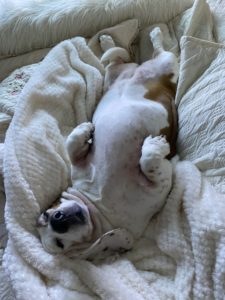 More not loving all of this later…but we carry on and do our level best to keep healthy!  Level and flat…just like the curve.  The flatter the better.  Just like a flat basset…Cat, Grandma, Daisy Lynn, (Chaps and Emma ATB laying on really flat beautiful clouds;)