December 25th, 2016 - 2:02 pm KY Time
Howllo fellow basset hound and official ear length lovers…It is not often that someone takes the time to report this very important data.  Come on!!!  This is the official archive for basset hound ear length!!!
I would like to send out a whole hearted thank you to Petey's Mom for getting himz into the record book!
Here himz is getting ready for the really big recording process…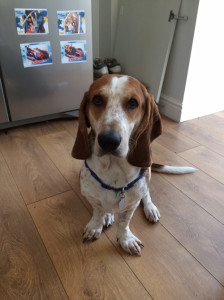 Now for the results…drum roll please…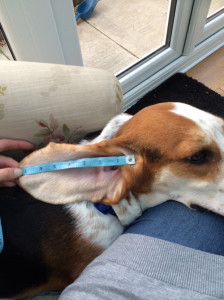 – A note from the Mommy…
"Hi cat here are the pictures of my pup Petey with his 7 1/2 inch ears and yeah it will be exciting to see how big he might grow I'll keep you updated many thanks Kirsty and Petey"
Finally – Petey gets some well deserved rest!  hehehe
Thank you so very much Kirsty for this very important historical documentation that will go down in the record book.
More recording long beautiful ears later…Cat, Daisy Lynn, (Chaps and Emma ATB knowing they did their part!)…