March 31st, 2013 - 7:07 pm KY Time
Howllo Fellow Basset Hound and Spring Break over Lovers….
Well, this morning we took our cousin dogs home and it was almost as if Mayor Daisy Lynn knew what was going on.  I am thinking Romeo and Enzo let her know in their own way.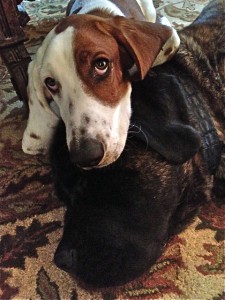 Enzo was already waiting by the door but Daisy Lynn made sure the big guy did not get away from her.
More missing the cousins later…Love, Cat, Daisy Lynn, (Chaps and Emma ATB) sending Daisy Lynn Easter bunny vibes….

Comments(7)