April 28th, 2014 - 6:06 pm KY Time
Howllo Fellow Basset Hound and video camera lovers…I have blogged before that I have indoor and outdoor cameras that I can tune into anytime I like.
Grandma likes it too!  In the morning I turn this one around so she can watch Daisy Lynn play with her toys!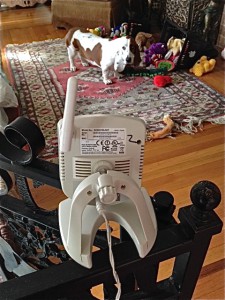 Daisy Lynn really puts on a show!
More loving bassethoundtown big brother/grandmother later…Cat, Daisy Lynn (Chaps and Emma ATB, the ultimate eye in the sky;)

Comments(4)