December 31st, 2014 - 3:03 pm KY Time
Howllo Fellow Basset Hound and giving to the charities of our choice lovers…
Mine is HOUSE OF PUDDLES!!!

Wow!  Can you believe this year is over?  2014 is over!  Time to reflect and to project!  Resolutions lost in the shuffle and resolutions to aspire to in the future!  I love resolutions.  I think they are the power of positive thinking.  So what if we don't achieve every one of them that we make? Dog knows we try!
Sometimes it just plumb wears a girl out tryin' so hard!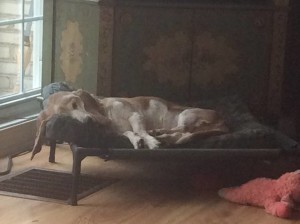 This is Sasha and she has been at House of Puddles since 9/29/2013.  She is currently 13 years old.  Her former mom was moving and couldn't take her. She was going to have her euthanized.  A good Samaritan stepped up and asked to be allowed to find her another home, so that is howl Marilyn, (HOP Mom) got her.  Sasha was from TN and was rescued with the help of Belly Rubs Basset Rescue.
Isn't this the coolest picture?  It looks like a painting! I asked Marilyn about it and she said that she took it with her iPad mini using zoom.  She went on to say…
"I've been told now that tablets only have digital zoom, not optical zoom, so it came out looking like a painting.  I'm still learning about this tablet stuff but it actually came out kind of cool, but totally an accident."
Wow, I think this is one beautiful accident and should hang in a museum.
Happy New Years Eve/last day to donate to the rescue of your choice day!  hehehe
More loving Sasha and the HoPpers later…Cat, Daisy Lynn (Chaps and Emma ATB laying on rainbow heating vents!;)

Comments(2)