February 28th, 2011 - 10:10 pm KY Time
WOW! That was quick – The Thundershirt was shipped to the Mayor today!
"Your order has just been shipped via USPS First Class"
Pretty impressive indeed! So far so good! I just ordered it yesterday!
Howllo Fellow Basset Hound and Thundershirt wondering residents.
OK, well we are certainly one of those after what we went through last night. It is only the end of February and bassethoundtown had a horrific thunderstorm last night. I gave the Mayor a storm pill and it only slightly budged his meltdown. I just don't know if either of us can take the upcoming storm season. So, if you recall, Grandma found the Thundershirt and I am willing to try ANYTHING….
Off I went to get the Mayor's measurement…..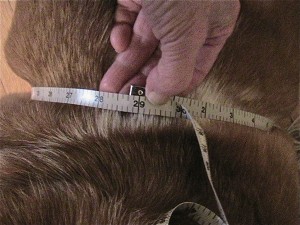 Wow, the Mayor seems to be a svelte 29" at his girth! Very trim indeed!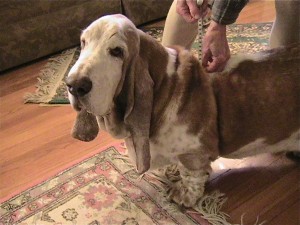 Thundershirt here we come.
The order is in and I will be waiting with wrapped anticipation for it's arrival. We cannot go through another storm season without a fix.
We will be doing a complete review of this product including YouTube videos. I would call Chaps a severe case. We have tried everything.
More waiting by the mailbox later….Love, Cat, Chaps and Emma

Comments(4)