August 22nd, 2018 - 7:07 am KY Time
Howllo Fellow Basset Hound and Daisy Lynn lovers…Well…we are all one of those.  OMGAWD this girl hates her baths.  So much so I have to take her to vet to get one.  She screams and hollers like she is being tortured.  Well, in her mind she is.  This time what seemed to work is that our vet gave her the bath and the assistant rubbed her ears the whole time and the experience was tolerable for her.  OMDOG!!!  We were so happy.
"Howl could you Mommy and Grandma?"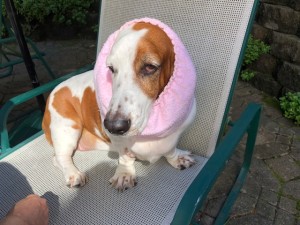 Can you even believe howl cute she looks in Emma's old pink bath snood?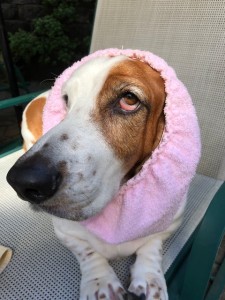 Well it did not take long for her to forgive us.  She sat outside in the sun and dried off.  I did another light furmination and all was right in the world.
More loving cherry scented shampoo later…Cat, Daisy Lynn, (Chaps and Emma ATB LOL…)