December 31st, 2011 - 9:09 pm KY Time
Howllo Fellow Basset Hound and 2012 Lovers….Yes, we here in bassethoundtown are 2012 lovers.  I don't think I have made a resolution in, like, 20 years but this year…..I have one.  I want to de-hair my home on a more regular basis.  There, I said it.  I need to clean much more.  I started early and bought a new sweeper and a steamer thing that mops.  Clean, Clean, Clean, a new Clean year!
"Mommy, does that mean more baths?"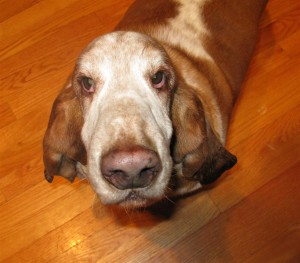 "Mommy, do I stink?"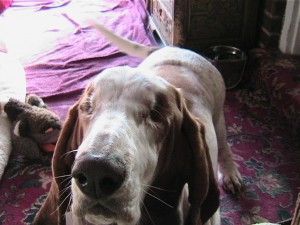 hehehe….
HAPPY CLEAN NEW YEAR ALL OF THE FINE RESIDENTS OF BASSETHOUNDTOWN!
More full steam ahead later….Cat, Chaps and Emma
PS – anymore resolutions out there?

Comments(8)