November 23rd, 2009 - 10:10 am KY Time
Howllo Fellow Basset Hound and drawings on moleskin lovers. LOL! I had no idea what moleskin was so I looked it up.
Moleskine (pronounced mol-a-skeen'-a) is a brand of notebook manufactured by Moleskine, an Italian company.
For two centuries now Moleskine has been the legendary notebook of artists, writers, intellectuals and travelers. From gifted artists Henri Matisse (18691954) and Vincent van Gogh (18531890), to poet and leader of the surrealist movement Andr Breton (1896-1966) to Ernest Hemingway (1899-1961).
So, there you go! Here is the drawing I found by an artist named rusty486.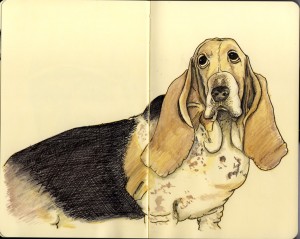 This drawing was on a site where artists can submit their art. So, rusty486, if you see this, leave a comment and tell us about the beautiful basset you drew. I love it!
Move loving moleskine later…..Cat, Chaps and Emma

Comments(6)