May 1st, 2012 - 6:06 pm KY Time
Howllo Fellow Basset Hound and patience is a virtue lovers.
Wow!  I am so pleased to report the following breaking news….
As far as I can tell, I was one of 2 bloggers that was investigating the Wendy Willard Murder Hollow Basset Hound Cruelty Case. (See Case synopsis below)
My position was to defend the bassets and tell the truth as my investigating unfolded.
Even the Basset Hound Club of America stood by the side of Willard, who has never even been a member of the club! The put out repeated requests for money to defend Willard in her trial, all in an effort to protect their interests.  Never did they stand up for the bassets who were rotting with mange, infested with ticks and standing in their own waste when the investigators showed up to save them.  I did.  I repeatedly advised my club against this pathetic decision but I was shut down at every turn.  I was IGNORED!
My investigation started in August of 2009 and I have stuck with it all this time.  Close to 44 thousand folks poured over my investigative reporting on my basset hound town forum regarding Murder Hollow.
I am proud and pleased to bring you the wrap up!
BREAKING NEWS….
PHILADELPHIA (CN) – A dog breeder who says animal-welfare officers "decimated" her pack of 23 prized hunting basset hounds cannot sue, a federal judge ruled.
Wendy Willard claimed in July 2011 that the Pennsylvania Society for the Prevention of Cruelty to Animals and two of its officers trampled her civil rights by seizing 11 dogs from her pack, known as the Murder Hollow Bassets.
Willard accused officers of trespassing on her land to conduct surveillance, and said the search warrant did not rely on observance of any criminal activity.
During the July 2009 search, officers allegedly accused Willard of having more than 12 dogs in a home in violation of Philadelphia's so-called limit law.
But Willard says that law pertains to residences, and that she kept 21 of her dogs in a heated barn.
Willard says she agreed to surrender 11 dogs because officers threatened to confiscate all 23 otherwise.
"As night fell, Miss Willard was forced to undertake the traumatic task of choosing which of her dogs – most of which had been whelped in her home and spent every day of their lives with her- to hand over to the PSPCA," the suit states.
U.S. District Judge William Yohn Jr. dismissed the suit last week, finding that Willard failed to allege a plausible constitutional claim.
Even if the PSPCA's warrant was unconstitutionally obtained through trespass, "it would not necessarily follow that the search of her property was unconstitutional," Yohn found.
Officers were simultaneously executing two search warrants that summer day – one obtained by the PSPCA and one obtained by the Bureau of Dog Law Enforcement (BDLE), part of the state's Department of Agriculture, the judge said.
Though Willard did not object to the bureau's warrant, she argued that the PSPCA and BDLE "are two separate and distinct organizations whose actions are governed by separate and distinct standards," according to the court's summary.
"Defendant PSCPA cannot shirk its responsibility simply by accompanying BDLE" on a search, Willard's opposition brief states, arguing for application of the "stalking horse" theory, which addresses collaborations between law-enforcement agencies subject to differing search-warrant standards.
Police are generally required to show probable cause for a search, but parole officers often face a less stringent standard when applying for a warrant, as they need only show that reasonable suspicion of a crime exists.
Under the "stalking horse" theory, a search by a parole officer can be invalidated if it is nothing more than a ruse for a police investigation. But the theory did not persuade Yohn.
"Willard's analogy to the 'stalking horse' theory is appealing insofar as the PSPCA's and the BDLE's burdens for obtaining search warrants are different, not unlike the disparate standards governing police officers and parole officers," the 13-page opinion states.
The 3rd Circuit has rejected the "stalking horse" theory and held that "the mere fact of collaboration" between parole and police officers is not sufficient to invalidate a search, according to the court.
Yohn said the search of Willard's home in July 2009 should be analyzed under the ordinary Fourth Amendment "reasonableness" standard.
"According to Willard's own allegations, the search of her property occurred pursuant to a warrant obtained by the BDLE," he wrote. "Willard does not challenge the sufficiency, reasonableness, or constitutionality of this warrant."
"Nothing in Willard's complaint suggests that the mere fact of collaboration between the PSPCA and the BDLE … should invalidate a search of Willard's property pursuant to a seemingly valid warrant issued to the BDLE," the judge found, granting the defendants' motion to dismiss. 
END OF REPORT COMING FROM:

Justice was served and I was a dog on a bone.  It feels good to know that these bassets finally had someone stick up for them!  The Judge!
More investigative reporting later….Love, Cat, Chaps and Emma
PS – now on to my next case….
Watch Hound!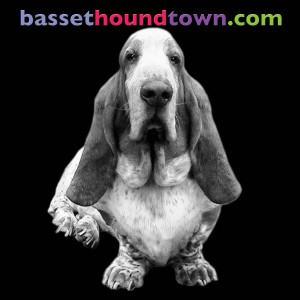 Comments(10)