October 16th, 2012 - 12:12 pm KY Time
Howllow Fellow Basset Hound and if you recall lovers.  Remember Grandma and I took Chaps birthday pictures for his 12th year celebration?  Well, I had promised to show some of them prior to his actual birthday which is tomorrow. My horrible cold/flu kept me away from my precious blogging about our precious Mayor for a few days.
Here we have a real contender for the official shot but it did not make the final cut.  (Can you believe it?)
I call it, Little Mr. Perfects.  When I picked out that pumpkin I immediately named him, Little Mr. Perfect so it was only fitting to take of picture of the 2 Mr. Perfects!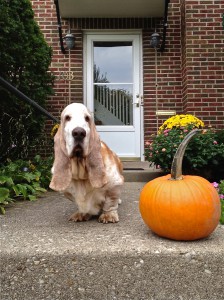 And then we have this one.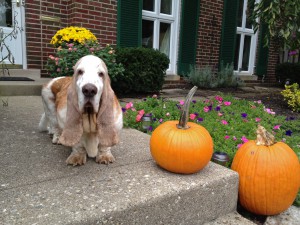 The Mayor did such a good job and I love having these memories of birthdays.
Interestingly, Grandma and I settled on the same official birthday shot which I will release tomorrow for your viewing pleasure.
More loving Little Mr. Perfects later….Cat, Chaps and Emma ATB being her own perfect self.
P.S. I still feel awful.

Comments(5)