October 17th, 2012 - 11:11 am KY Time
Howllo Fellow Basset Hound and birthday boy lovers….
Here is Chaps official 12 year old birthday picture.  There were so many good ones but this one spoke to Grandma and I.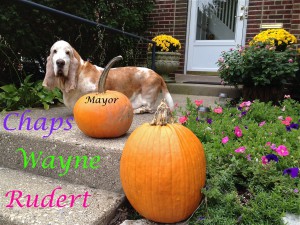 It is absolutely stunningly beautiful in bassethoundtown today and we are going to take the Mayor up to the park.  I think the vitamin D will do us all some good.
I hope to do a few more blogs today to celebrate our boy….he is such a joy!
More loving an elder Mayor later….Cat, Chaps and Emma ATB eating birthday cake!

Comments(11)