November 14th, 2012 - 3:03 pm KY Time
Howllo Fellow Basset Hound and Secret Treasure Lovers….I call this little town a secret treasure.  Grandma, Chaps and I were on our way home from Carter Caves back a few weeks ago, just pushing down the road because I was sick as sick can be.  Out of the corner of my sick eye I saw this.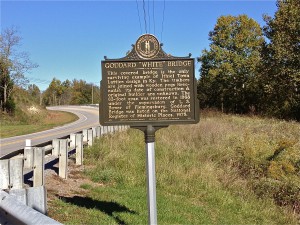 I knew it was a must to turn around and get back to that bridge for a gorgeous photo op.  I was soooo right.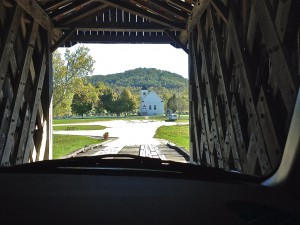 It really was like entering a magic world.  Look at that little white church!
The Goddard White Covered Bridge  is the only surviving example of Ithiel Town Lattice design in Kentucky, with timbers joined by wooden pegs. Actual date of construction and the original builder are unknown, but the bridge can be traced back to the 1820′s. A favorite spot for photographers, the Goddard Bridge frames the Goddard United Methodist Church in the background. A historically accurate renovation was recently completed on this bridge and it is again open to both pedestrian and vehicle traffic.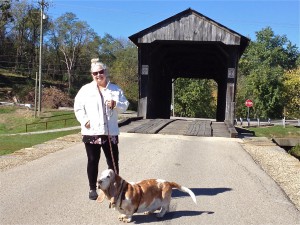 I just could not believe that this little secret treasure town and spot is only an hour and a half away from our home.  We will certainly go back and hopefully visit this tiny town during the upcoming holiday season.  I bet it just sparkles.
If you walk past the little church, across some farm land is this barn.  Look at that stunning barn quilt.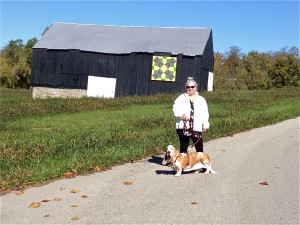 So, our little side trip was one of the best moments of the bigger trip.  As we headed back to the car one more snap of the bridge…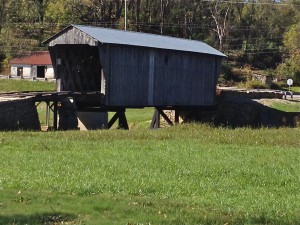 There is a picnic table right here where I took this picture from.  Just so beautiful and serene.
More loving secret treasures along the way later…Cat, Chaps and Emma ATB laying under her own family quilt (aka gully)

Comments(6)