January 22nd, 2013 - 9:09 pm KY Time
Howllo Fellow Basset Hound and Big Day Lovers…Tomorrow our very own Mayor Daisy Lynn will have a play date with Romeo and Enzo!  YES!
So, I tucked her into bed.  She is now sleeping in the big bed with me.  That took all of one night in the kennel.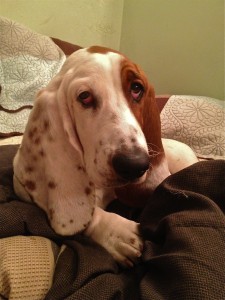 Herz needs her beauty sleep!
Look out RoRo and Enzo – puppy energy comin' at ya!
More looking forward to cousin dogs later…Cat, Daisy Lynn (Chap and Emma ATB) wishing her luck!

Comments(6)