February 19th, 2013 - 3:03 pm KY Time
Howllo Fellow Basset Hound and off they go lovers….
Well guess who went home today?  Yes, the cousin dogs.  All good things must come to an end;)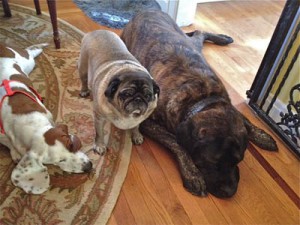 I think Daisy will be fine.  I know Romeo and Enzo will.  I was worried about Daisy Lynn getting to attached and then, them going away, but I don't get that feeling anymore.  I think she loves being part of that pack but she is OK with them leaving.
Not to worry, baby Daisy…They will be back in…let's see….about 4 weeks!
More being part of a pack later….Love, Cat, Daisy Lynn, (Chaps and Emma ATB) handing them their hats…

Comments(6)