March 6th, 2013 - 12:12 am KY Time
Howllo Fellow Basset Hound and sweet and innocent lovers….
I took this picture before I went back to my office.  I was leaving Daisy Lynn alone in other areas of the house to build up some trust!  She has been doing so good!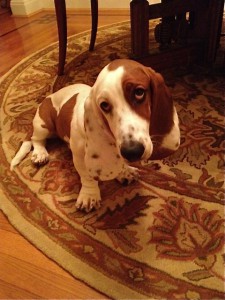 Moments later I heard odd clicking (which turned out to be nails on wood) sounds…
Daisy Lynn had jumped on a dining room chair and was standing in the middle of the table.
My heart was in my mouth.  I was so scared she would jump.
I caught her mid air.
The table is now off limits with boundaries in place.
More trusting later, much later…Love, Cat, Daisy Lynn (Chaps and Emma ATB) rolling their eyes…

Comments(11)