February 10th, 2014 - 9:09 pm KY Time
Howllo Fellow Basset Hound and Westminster Lovers.  The show starts right now on some obscure channel on my cable, (905).
I need a break from snow boarding which is getting a bit long in the tooth for me.
I big thank you to Monnie, bassethoundtown resident for alerting me that she spotted a very cute lace ear in the all breed Basset judging video over on the Westminster site. 
This hound is first up on the ramp during the all basset hound breed competition.  I am not sure who won this contest but I will soon find out as they RELEASE THE HOUNDS, in the hound group which is first up.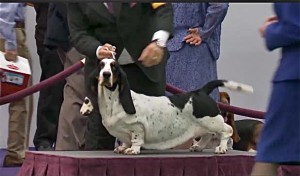 Wonder who this hound is?  Very cute indeed as they all were.
So tune in and watch the basset not place!  They rarely do which is a real shocker in my opinion.  (Surprise, surprise…)
More loving fancy pants hounds showing the world they are simply put…Adorable! Love, Cat, Daisy Lynn, (Chaps and Emma ATB popping the rainbow corn;)

Comments(12)