February 22nd, 2011 - 9:09 pm KY Time
Howllo Fellow Basset Hound and Dreaming of Spring Lovers! Every year Grandma and I take birthday pictures of Emma under the Cherry Tree that Grandpa planted in our front yard in honor of Emma's Birthday. Oh howl I am looking forward to that photo shoot! Emma will be 7 on the 21st of April. I thought the residents might want to remember her 5th birthday photo shoot with us!
This is the most stunning birthday girl ever? Well….you can give a Mom that one! hehehe
Then this breathtaking shot!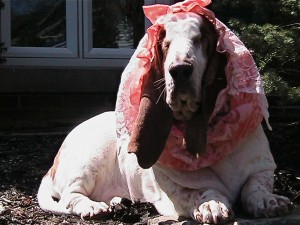 I am just counting the days until our 7 year old photo shoot! Emma is such a stunning subject!
More itching for Spring later…..Love, Cat, Chaps and Emma

Comments(2)