June 16th, 2013 - 10:10 pm KY Time
Howllo Fellow Basset Hound and Dad Lovers…Well, today my darling Colby Chaps sent me a picture in honor of his Dad our Mayor ATB.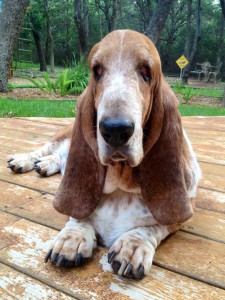 I am thinking I might need to see if we (the residents) want to add this one to the Sr. Hounds Abound Calendar line up for us to all vote on.
We all voted on the picture but it is not decided yet.
It seems that most like picture number 3 without the glare that One Mom fixed so don't worry about that.
I don't think Colby Chaps can take a bad picture!!!
More loving sons of fathers later…Cat, Daisy Lynn (Chaps and Emma ATB loving fathers one and all)

Comments(9)