May 17th, 2013 - 7:07 pm KY Time
Howllo Fellow Basset Hound and Special Touches Lovers…Today I was re-arranging a few things in a big cabinet I have in the living room.  That is when I spotted a zip lock baggie.  I opened it up and saw what appeared to be a twist of metal or something.  I swear I cannot remember where I got this but is seemed familiar.
Turns out it is a wire that spells out the name Emma!  For the life of me I cannot remember where I got it.  It's is all very vague.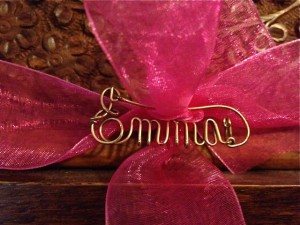 I added it to her urn box and it just looks beautiful…
Then I was still messing around in the cabinet and found a card that Lois and Suzanne sent me after Emma passed away.  Inside of the card is a pin that I cherish.
Since the pin is obviously, a boy hound;) I added it to Chaps urn box…
A little gift to me, now from Emma to Chaps…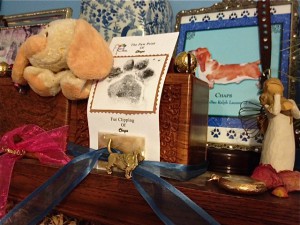 Two special touches…
More loving our Emma and her special touches later…Cat, Daisy Lynn (Chaps and Emma ATB) telling Mommy Hi!

Comments(1)